Quantitative Research Services
Online & Mobile Surveys

• Support for all question types and multiple layouts
• Complex skip patterns
• Ability to choose the number of questions a respondent sees on a page
• Ability for the respondent to review and amend answers easily
• Recall previous responses
• Multimedia support, including image, sound and video files
• Suspend and resume survey (respondents pick-up where they left off)
• Password protection
• Real-time error checking
• Status bar progress

Real-Time Data Reporting

AccessPoint™, The Matrix Group's online data reporting system, provides real-time results in a variety of different ways through the use of dynamic, interactive charts and tables, customized specifically for your project. Multiple styles of charts, graphs and tables, are available to display results for any type of data collected, ranging from overall responses for specific questions to individual answers for entire surveys.

Data Tabulation, Analysis and Reporting

The Matrix Group provides data tabulation, analysis and reporting in a readable, easy to use format. We have the flexiblity to handle data in many different formats including ASCII files, column binary and database formats.

Our data professionals will work with you on the layout and design of your tables to create a custom look that is easily integrated into your presentations exactly as you specify. We can also provide charts and graphs to add visual appeal to your research results.

In-House Call Center


The Matrix Group's in-house staff of market research professionals are highly experienced in telephone interviewing. Using our custom-designed CATI system, our center can facilitate business-to-business projects and consumer interviewing.

Mail Surveys

Our project team can handle every aspect of your mail survey, including questionnaire design, coordination of printing and mailing, data entry, analysis, and reporting.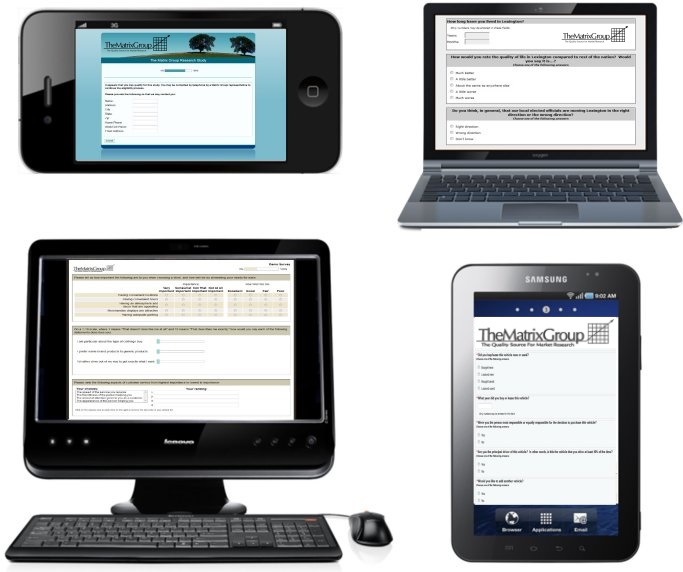 Other Services
We have a state-of-the-art focus group facility, and provide a full line of qualitative research services, including focus group hosting and moderating, as well as field and recruiting services.
Our custom research services include product and website usability testing, strategic marketing plans, marketing & merchandising services, and regional and national project management.
Host your next Lexington event at The Matrix Group. We offer a convenient, private, and flexible space to accommodate your group of up to 20 people, with facility rental on an hourly, daily, or multi-day basis.