Welcome to The Matrix Group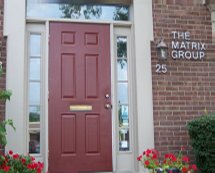 Since 1987, The Matrix Group has helped clients connect with their markets through strategic communication, group facilitation, and market research. We are a full service research company, providing quantitative, qualitative, and custom research and business solutions.
Our meeting and research spaces are also available for rental.
Featured Service: Focus Groups
The location of our focus group center is convenient and accessible to one of Lexington's most popular shopping and dining areas. There is plenty of free parking, and our one-story building has handicap accessibility and a separate client entrance.

We have an on-site professional staff who are knowledgeable, courteous, and focused on ensuring the success of your project.

Click below to find out more about our focus group services and facilities.

More

Care - Share - Aware
Care - Share - Aware is our community engagement initiative that supports worthy causes that help empower change to improve lives. The Matrix Group selects a noteworthy cause or organization each month, with a goal of generating awareness and communicating with our extended audiences the importance of supporting commendable causes.



For the month of December, The Matrix Group's Care-Share-Aware program highlights the work and efforts of Fostering Goodwill, an organization developed and sustained for improving the lives of older youths living in foster care homes or those recently exposed to the world through acquiring career skills, funding for school and post secondary education, and providing nurturing environments for expectant mothers.
Click below to find out more about the Care - Share - Aware intiative, and Fostering Goodwill.
More
What We Can Do For You:
A full line of quantitative research services, including online, mobile, and mail surveys, as well as data processing, analysis, and reporting.
A state-of-the-art focus group facility, and a full line of qualitative research services, including focus group hosting and moderating, as well as field and recruiting services.
Custom research services, designed from the ground up, that meet specific client goals.
We offer a convenient, private, and flexible space to accommodate your group of up to 20 people, with facility rental on an hourly, daily, or multi-day basis.